Due to the nature of ROTE, it's pretty easy to get stuck on any level.
That was the point of the game, make it as hardcore as possible to stimulate your brain and achieve this euphoric experience of beating really difficult challenges. Having a difficult game is sometimes a great thing, but mostly it's a big flaw in the whole mobile casual game world.
For us, it happened to give a mixed effect, people who liked it went as far as they could go and those who didn't abandoned pretty quickly.
I can understand that it's not cool to get stuck in a game even though you want to finish it.
It might happen that you couldn't finish only one of the levels, but you're pretty much capable of solving the rest or you're just simply having a bad day and still want to know the solution.
We didn't want to leave anyone behind, so we decided to create this whole section on our website dedicated to solutions for the game, for every single level.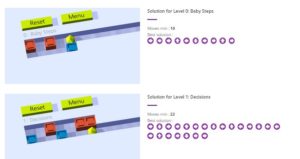 It comes with a list of directions you have to take to solve the puzzle and a screenshot of how the level will look like in the end.
Here's the link : Solutions for the ROTE ( and ROTE Pro )
I hope it helps you !