Version

[version]

Download

88

File Size

170.14 KB

File Count

1

Create Date

10 August 2015

Last Updated

10 August 2015
L'Echo BE: Le secteur belge du jeu vidéo en mode expert à Cologne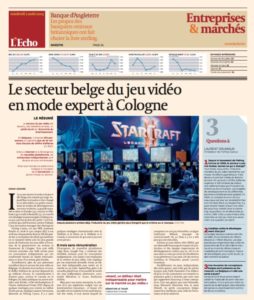 5 years ago, the Belgian Industrie of video games was almost non-existent. Today, the situation has changed and there are almost 60 small development studios in our territory. The vast majority is in Flanders (42), then in Wallonia (14) and finally in Brussels (5). "The market has grown thanks to Fishing Cactus which helped make 'babies'. This is the locomotive that pulled the sector, "said Thibault Claes, manager Innovation at Startups.be
The emergence of new platforms (App Store, Google Play ...) is a real boon for independent designers. "We are witnessing a rebirth of the creation of video games. This is explained by favorable economic conditions. Before, an editor was essential to release a video game. Today, thanks to new platforms, it is possible to sell games differently ", says Sébastien Le Touze, founder of eXiin.
Meanwhile, independent games, known as indie games, are created by small teams without the financial assistance of a game publisher. And even if they rise thanks to the Internet, few are financially viable. Facing the giants Nintendo, Sony, Microsoft, Electronic Arts, Ubisoft and other, smaller Belgian designers play their best card, that of innovation and creativity.

---
Il y a 5 ans encore, le secteur du jeu vidéo belge n'en menait pas large. Au- jourd'hui, la situation a bien changé et on dénombre une petite soixantaine de studios de développement sur notre territoire. La grande majorité se situe en Flandre (42), ensuite en Wallonie (14) et enfin à Bruxelles (5). «Le marché s'est développé notamment grâce à Fishing Cactus qui a permis de faire des 'petits'. C'est la locomotive qui a tiré le secteur», estime Thibault Claes, innovation manager chez Startups.be

L'émergence de nouvelles plateformes (App Store, Google Play...) constitue une véritable aubaine pour les concepteurs indépendants.

«On assiste à une renaissance de la création de jeux vidéos. Cela s'explique par une conjoncture favorable. Avant, un édi- teur était indispensable pour mettre sur le marché un jeu vidéo. Aujourd'hui, grâce à de nouvelles plateformes, il est possible de vendre des jeux indépendants autrement», commente Sébastien Le Touze, fondateur d'eXiin.

Parallèlement, les jeux indépendants, dits indie games, sont créés par de petites équipes sans l'aide financière d'un éditeur de jeux. Et s'ils connaissent une montée en puissance grâce à internet, peu sont ceux qui rapportent beaucoup à leurs concepteurs. Face aux géants que sont Nintendo, Sony, Microsoft, Electronic Arts, et autre Ubisoft, les petits concepteurs belges jouent leur meilleure carte, celle de l'innovation et de la créativité.